As a leading enterprise in the galvanized & pre-painted industry in china. Shandong Xinghan Materail Corporation with an annual output of 1 million tons of picking coils. 1 million tons of cold roll. 800,000 tons of hot-dipped galvanized and galvalume steel sheets. 450,000 tons of thicker galvanized steeel sheets.300,000 tons of pre-painted steel sheets. occupies a stable leading position in the industry.
1. Cold rolled substrate color coated steel sheet
The color sheet produced by the cold-rolled substrate has a smooth and beautiful appearance and has the processing property of the cold-rolled sheet;
2. Hot-dip galvanized color coated steel sheet(prepainted galvanized steel sheet)
The product obtained by coating an organic coating on a hot-dip galvanized steel sheet is a hot-dip galvanized color-coated plate. In addition to the protective effect of zinc, the hot-dip galvanized color-coated sheet also protects against rust and has a longer service life than hot-dip galvanized sheet;
3. Hot-dip aluminum-zinc color coated sheet(prepainted galvalume steel sheet)
Hot-dip aluminum-zinc steel sheets can also be used as color-coated substrates (55% AI-Zn and 5% AI-Zn);
4. Electroplated zinc color coated sheet
The electro-galvanized sheet is used as the substrate, and the product obtained by baking with the organic coating is an electrogalvanized color-coated plate. It has a beautiful appearance and excellent processing properties, and therefore can be mainly used for home appliances, audio, steel furniture, interior decoration, and the like.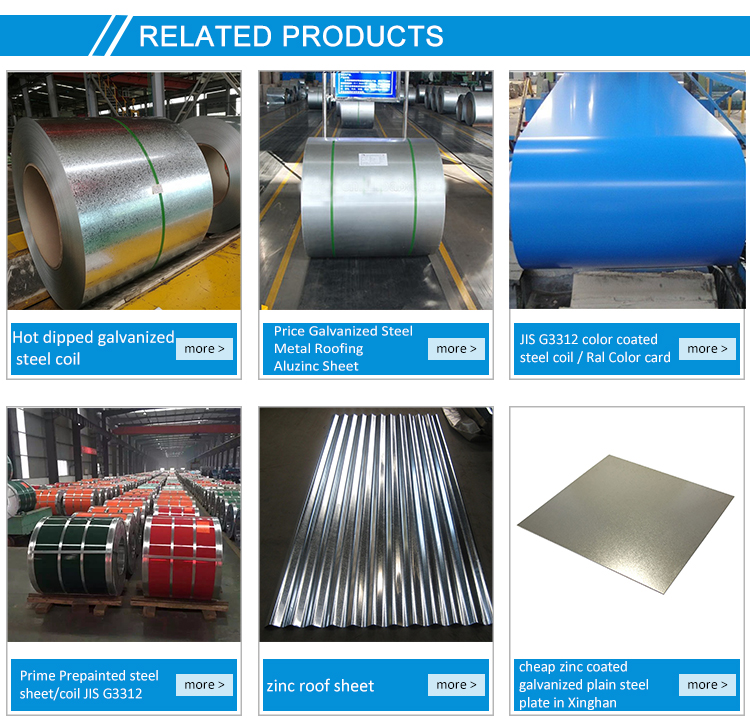 CONTENTS

PREPAINTED GALVANIZED – PPGI

PREPAINTED GALVALUME – PPGL

BASE METAL

GALVANIZED

GALVALUME / ALUZINC

STANDARDS

JIS G 3312-CGCC, CGC340-570,( 57534810,G550),

JIS G 3312-CGLCC, CGLC340-570,( 57534811,G550),

ASTM A -755M CS-B, SS255-SS550

ASTM A -755M CS-B, SS255-SS550

THICKNESS

0.14~2.0 mm

0.14~2.0 mm

Width

750~1500 mm

750~1500 mm

Coil ID

508/610 mm

508/610 mm

Substrate

Soft, Medium, Hard

Soft, Medium, Hard

Coating Mass

Z 40-275 (g/m2)

AZ 40-150 (g/m2)

Paint Systems

Primers: Epoxy, PU

Primers: Epoxy, PU

Top Coating:

Top Coating:

Polyester (RMP/PE)

Polyester (RMP/PE)

Silicon Modified Polyester (SMP)

Silicon Modified Polyester (SMP)

Poly Vinyl Di Flouride (PVDF)

Poly Vinyl Di Flouride (PVDF)

Back Coating: Epoxy, Polyester, PU

Back Coating: Epoxy, Polyester, PU

Coating

20 – 50 Microns

20 – 50 Microns

Colours

As Per RAL Chart/Customer requirements.

As Per RAL Chart/Customer requirements.

Surface Finishes

Glossy and Matte

Glossy and Matte

Cut to length

200mm-5000mm

200mm-5000mm

Capacity

1,500,000.00 Ton / year

1,500,000.00 Ton / year

Packing

Sea Worthy Export Packaging

Sea Worthy Export Packaging

Loading Port

Tianjin Port/Jingtang Port/Shanghai Port

Tianjin Port/Jingtang Port/Shanghai Port