Product Description
High quality Structural steel color Coated Steel Prepainted steel coil for sale
Production core strengths
Resistance to acid rain:
Coating protection mechanism: It is very easy to form acid rain in the high level of industrial emissions or pollutants environment. Acidic penetration is formed in the surface of pre-painted steel, and accelerates the corrosion, forming blistering, peeling and so on.
Resistance ultraviolet rays:
Coating protecting Mechanism: pre-painted sheet in ultraviolet or strong sunlight conditions, the coating will exhibit chalking degeneration, manifested as discoloration and loss of gloss, lose paint quickly.
Resistance to humid heat:
Coating protecting mechanism: in hot and humid environments, high osmotic pressure of water vapor accelerates penetration, forming the degeneration of painting film, then the corrosion of the substrate, with the phenomenon of bubbles and peeling.
Resistance to low temperature:
Coating protecting mechanisms: most of the paint can keep stable processing performance above 0 degree, but at alpine region, the temperature will be below 20-40 degree, normal paint will become brittle,bend cracking, or even lose paint, thus protection function is lost totally.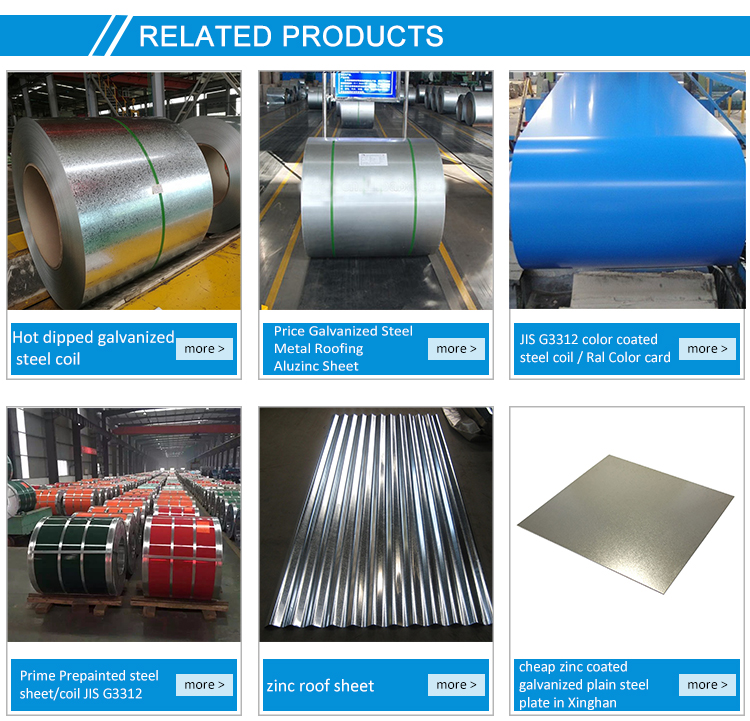 Pre painted galvanized steel coils (PPGI)

CONTENTS

PREPAINTED GALVANIZED – PPGI

PREPAINTED GALVALUME – PPGL

BASE METAL

GALVANIZED

GALVALUME / ALUZINC

STANDARDS

JIS G 3312-CGCC, CGC340-570,( 57534712,G550),

JIS G 3312-CGLCC, CGLC340-570,( 57534713,G550),

ASTM A -755M CS-B, SS255-SS550

ASTM A -755M CS-B, SS255-SS550

THICKNESS

0.14~2.0 mm

0.14~2.0 mm

Width

750~1500 mm

750~1500 mm

Coil ID

508/610 mm

508/610 mm

Substrate

Soft, Medium, Hard

Soft, Medium, Hard

Coating Mass

Z 40-275 (g/m2)

AZ 40-150 (g/m2)

Paint Systems

Primers: Epoxy, PU

Primers: Epoxy, PU

Top Coating:

Top Coating:

Polyester (RMP/PE)

Polyester (RMP/PE)

Silicon Modified Polyester (SMP)

Silicon Modified Polyester (SMP)

Poly Vinyl Di Flouride (PVDF)

Poly Vinyl Di Flouride (PVDF)

Back Coating: Epoxy, Polyester, PU

Back Coating: Epoxy, Polyester, PU

Coating

20 – 50 Microns

20 – 50 Microns

Colours

As Per RAL Chart/Customer requirements.

As Per RAL Chart/Customer requirements.

Surface Finishes

Glossy and Matte

Glossy and Matte

Cut to length

200mm-5000mm

200mm-5000mm

Capacity

1,500,000.00 Ton / year

1,500,000.00 Ton / year

Packing

Sea Worthy Export Packaging

Sea Worthy Export Packaging

Loading Port

Tianjin Port/Jingtang Port/Shanghai Port

Tianjin Port/Jingtang Port/Shanghai Port
Zinc Sheet Laminated Prepainted Painted Galvanized Steel Coil PPGL Color Coil Coated Steel